Winterton's Proud Heroine of the Waves
April 26. 2018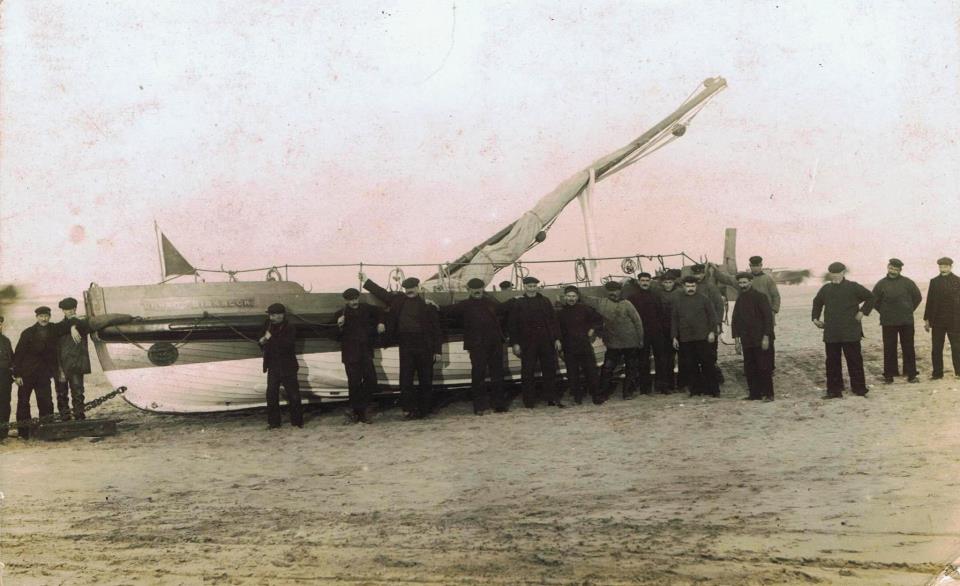 Once she was a proud heroine of the seas, saving souls along the coast from Winterton for almost 30 years. Now she is a shadow of her former self – but with a bright future ahead. From 1896 to 1925, the crew of the lifeboat Edward Birkbeck launched 44 times, saving 94 lives. But when the village's lifeboat station was closed in 1925, she was sold, converted to a motor cruiser and abandoned in a Welsh harbour sometime around 2004. 
Barry Tuson, the harbourmaster at Conwy, came across her in 2011 in a much deteriorated state and set about getting her home rather than having her scrapped. A phone call in 2011 set things in motion and in 2012 the Edward Birkbeck came home – and work began to restore her to her former glory.
"No one is sure how it came to be in Conwy. When we took a good look at it, it looked like a lifeboat of some sort," said Mr Tuson at the time. "It was obvious it was an old boat, but no one knew how old. So I thought we should find out more about it. I got in touch with the parish council in Winterton, and it all just sprung into life from there. "It's a really happy ending. All too often, things of historic value are lost because the right people don't know about them. It's nice we could send part of Winterton's heritage back home after all these years."
Named after Sir Edward Birkbeck, a former chairman of the Winterton branch of the RNLI, the boat is an early example of the Improved Norfolk and Suffolk Non-Self Righting Lifeboat. She was built by Beeching Brothers of Great Yarmouth in 1896 at a cost of £436.2.7d, paid for by an anonymous donor. The restoration programme – which is carried out by volunteers (of whom more are always needed) and funded by donations, fundraisers and grants – is an ongoing process. Plans have been submitted for a heritage centre, The Winterton Story, where she will be the centrepiece of a display about the village's history and heritage.
Over the years, the Edward Birkbeck – later known as the Mirosa and then the Edward Birbeck (losing the 'k') – was kitted out with an iron keel, pine decks and an engine. And while her purpose was as a pleasure vessel, she had her share of adventure, including sailing from Cornwall to Conwy through the great gales of 1987 and having to be rescued herself by the St David's lifeboat.
Once she was back home, travelling on a low loader, she was lifted out of the iron hull and stripped back to her original configuration, and then the hard work began. Designed specifically to deal with the conditions at Winterton, including the long drag across the beach to the water, the boat was built of Honduras mahogany with copper rivets and, while the wood is no longer available, the restorers are using as traditional materials as possible.
Working with copies of the original RNLI Class Drawings found in the National Maritime Museum and under the watchful eye of local boatbuilder Maynard Watson, the restoration group hopes to get her back to her original condition.
The old lifeboat station was near the public toilets on Beach Road, and the group is hoping that the heritage centre will be sited near that area so people can learn more about the heroes who went to sea in all weathers. Lifeboat crews have always been hardy, but back then there were no sophisticated equipment – the 12-man crew had nothing more technical than a handknitted jumper with a waistcoat with corks sewn on. These jumpers were known as "ganseys" and each family had its own pattern – sadly, these were often used to identify bodies after a disaster at sea.
Commemorative plaques in the Fisherman's Corner at Winterton Church which list her rescues remember these men – and it was this connection that made the restoration project an obvious choice for chairman Bev Kay. At the time, she said: "It fascinates me to walk through the churchyard and read the names on the stones and so many of those names were part of the crews of the lifeboats over the years. And since the alternative, if we hadn't taken it back, was that it would be broken up or sold on Ebay, I thought that couldn't happen. Not when those people gave their lives."
Several fundraisers have been lined up for May, including a tea and treasure hunt from the church on Whitsun Bank Holiday, May 28, (1pm to 4pm). There is also raffle to win a pastel portrait of your pet by local artist Peter Chapman. The winner will be drawn on May 28 and tickets are £2. They are available from the fish and chip shop or the post office. You can also call Bev 01493 394594.