Watch the Norfolk Birdies!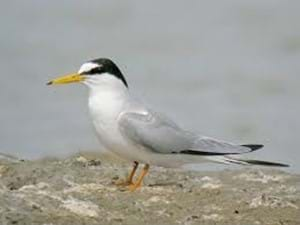 It's not just holidaymakers who return to Norfolk again and again. Birds also flock to our part of the world every year to raise their families in the summer or to sit out the winter. And it's these feathered visitors which make it the perfect place for birdwatchers – all year round.  Internationally-renowned sites such as Cley, Titchwell and Minsmere are not too far away, and are rewarding for the seasoned watchers, but you'll see some real treasures just by going out and about nearby.
There's often not even a need for binoculars to see something special. In summer, Bacton cliffs, just up the coast from Winterton, are home to sand martins, which fly in every May to nest in the sandy slopes where they spend the summer. You can easily see their burrows and spend hours watching the parents swooping in and out feeding their hungry chicks.
Like sand martins, little terns arrive from tropical climes in April and May and make their nests on the beach between Winterton and Horsey. This stretch boasts one of the most successful breeding colonies of the bird which resembles a slim, elegant gull. The little tern is one of our rarest breeding sea birds and recent studies have shown that their numbers in the UK and Europe are in dramatic decline. Estimates suggest that there are now only about 1500 breeding pairs, which form around 60 breeding colonies.
The one at Winterton often proves to be the biggest in the UK as wardens and volunteers always rope off the colonies and keep the birds safe from gulls, foxes, crows, dogs – and humans. Vantage points have been set up so you can watch at a safe distance, but look out for stray nests when you're out and about, these little birds need all the help they can get. There are more colonies scattered from the North Denes, at Great Yarmouth, up to Blakeney on the north Norfolk coast, making  Norfolk home to around a third of the UK population.
But some birds choose Norfolk as their winter home, away from the snows and biting winds of Siberia and all points north. Breydon Water, the estuary at the mouth of the Yare at Great Yarmouth, attracts many of these birds, as do the Berney marshes along the Acle Straight. There are hides you can use located just a short walk from the Asda car park to watch the comings and goings. You are almost guaranteed to see heron and cormorants but you might be lucky enough to see a spoonbill, which have been seen along the water's edge.
If you're there when the ducks, geese and swans arrive for winter you're in for a true spectacle. As many as 64,000 wintering wildfowl visit the area every year, including pink-footed geese and wigeons. You'll also see flocks of swans and geese tucking in to the remains of crops on the fields around the area. They are particularly partial to the leftovers after the green vegetables are harvested alongside the coast road from Winterton to Sea Palling.
Heading  towards Norwich, Buckenham Marshes are just a short drive away and the area is a haven for wildlife along the northern bank of the river Yare. It mixes marshland, reedbed, wetland and valley habitats, and boasts the only regular winter flock of bean geese in England. In summer, you can watch avocet and lapwing chicks with their parents and barn owls are often seen in daylight, hunting prey for their young. Large numbers of Canada and greylag geese gather to moult here, and in late summer, a variety of wading birds on passage, stop to feed on the shallow pools before heading off on their long- haul flights south.
Nearby Hickling Broad is a wonderful place for birdwatchers as its carefully placed hides allow excellent views of harriers, cranes, hobbies, warblers, curlews, sandpipers, gulls, terns… There is also an electric boat tour in summer to go to some of the less accessible sites. Norfolk is known for certain birds  – the marsh harrier, the stone curlew, lapwing, moorhen, coots and heron are almost synonymous with the county and kingfishers, egrets, cettis warbler and owls are common sights.
But the bird most associated with the county is the one you are the least likely to see – the elusive bittern. One of the rarest breeding birds in the UK, the large, but well-camouflaged, bittern can be found all year round in the reedbeds of the Broads – particularly at Hickling. You might not see one, but it's very possible you might hear one. Bitterns boom. Loudly. The males can usually be heard calling from March until June and the sound carries as far as two kilometres to attract any females who might be flying in.
The birds used to be hunted for food many centuries ago and were a popular target for Victorian taxidermists and egg collectors, meaning there are now more bitterns in glass display cases than there are in the reeds. Almost extinct in the late 19th century, there were only 11 resident males recorded in 1997, but 188 were seen in 2018, so numbers are moving slowly in the right direction. In all our lives in Norfolk we've never seen one… perhaps you'll be luckier.