Making Space for a Summer Break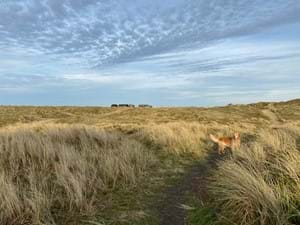 One of the main reasons many of our guests come to see us time and time again is that this corner of Norfolk has loads and loads of lovely space – and that's just what we all need right now as we emerge from a year cooped up in lockdowns.
It's been a long time since we saw some of you and can't wait until April 12 when we will be greeting our first visitors of 2021!
Restrictions may be in place for a while yet, but even within those rules you can find a sense of freedom under those big Norfolk skies we all know and love.
Winterton offers a beautiful beach, dramatic dunes and some wonderful countryside walks which start and finish right on our doorstep, meaning you can enjoy time well away from the crowds.
A lot of our guests don't use their cars at all while they are with us, choosing instead to chill in the village and set out on foot to explore local highways and byways.
One of our favourite walks is the five miler around the Georgian Burnley Hall, which includes Winterton's "back hills" – an area of outstanding natural beauty, woodlands and fabulous views. It also passes three of our new properties – Big Sky, Martin's Nest and Ladybird.
Sometimes you don't see a soul all the way round – even in high summer – so when we say there's plenty of space, we really mean it.
Another, shorter, stroll (around three-and-a-half-miles) passes the ruined St Mary's church at East Somerton, where brave souls can circle the tree growing out of the nave to see if the legendary witch appears… We have tried this and, so far, she hasn't graced us with her presence – but don't let that stop you.
There are also longer signposted walks to be enjoyed, including an 11 mile yomp which includes Horsey Mere and its windpump and gives the opportunity to see some impressive wildlife, including marsh harriers and reed bunting.
Norfolk boasts around 1,200 miles of paths, including circular walks with good pubs and others which include rides on steam trains as well.
A short drive will take you to our long-distance routes, which make for easy and interesting walking. The Norfolk Coast Path, Angles Way, Weaver's Way and Wherryman's Way all pass nearby – you can join the Norfolk Coast Path at Sea Palling, not far from Winterton, and if you want to walk the whole length you will end up in Hunstanton!
Our brand ambassador, Digby, enjoys a long ramble, but he also enjoys his daily stroll around the village. It gives a good flavour of what the area has to offer, and once you get a look at the views, we predict you'll want to go just a little bit further to see what's around the next corner or over the next dune.
If waymarked routes and trails aren't for you, you could just set off along the beach in either direction, heading for Hemsby to the south and Horsey to the north. Horsey has an excellent pub with a large outdoor space and Hemsby has lots of traditional seaside fun to offer. Chips or an ice cream overlooking the sea never taste as good as when you've walked up an appetite.
Click here to download the Winterton Walks booklet for five circular routes starting in the village, lace up your boots and enjoy being out and about once more.