Holiday Heaven for Hounds
It usually starts as soon as the suitcases come out. Following you around the house, big brown eyes beseeching: "Take me with you."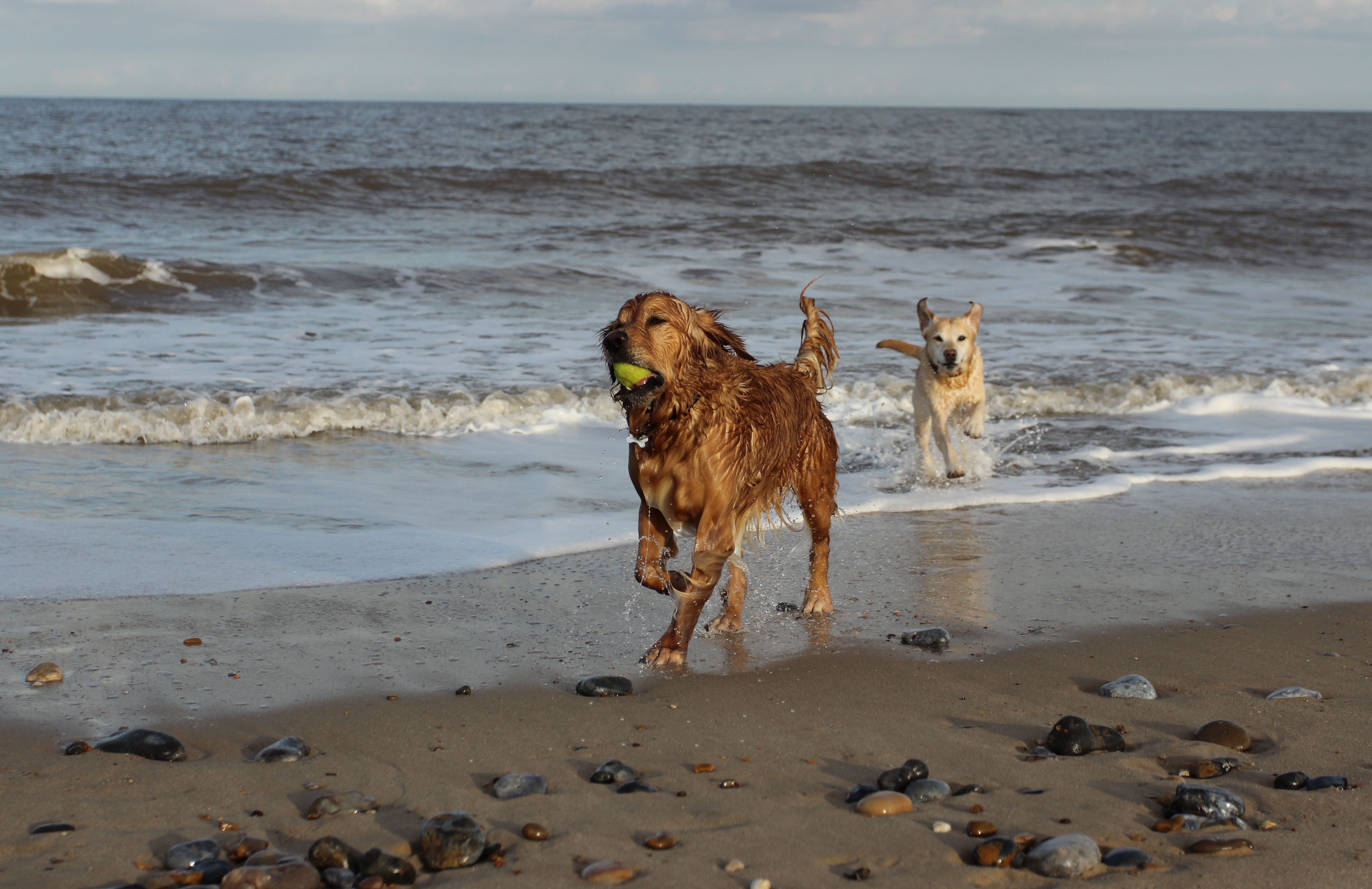 It's no fun being the only member of the family left behind when everyone else is off for a week or two of fun and games – which is why we love you to bring your dog with you when you come to stay in Winterton. Most of our cottages welcome pets and the area is just perfect for pooches – just ask our Brand Ambassador, Digby. He loves running on the beach, swimming in the sea and enjoying an evening in one of the local pubs. In fact Digby is more recognised than we are!

Here in Norfolk we are lucky to have miles and miles of unspoilt beaches with few seasonal restrictions on walkies. You don't have to walk far to get to the dunes, sand and shallows of Winterton beach, which is ideal to stretch all four legs, let off steam and chase balls and sticks. There are no official restrictions all the way to Horsey, but please keep your dogs on a lead during the seal-pupping season (November to February) as mama seals do not like to be disturbed.

Other than that, they can run free with the wind in their fur and also enjoy a snack at the Dunes Café. They can't go inside, but there is seating outside and cosy little huts where dogs and their walkers can enjoy a cuppa or a meal when it's not so sunny out. There are also dog treats on offer…
Beaches around the nearby resorts have restrictions from May to October as a general rule, so Hemsby, Sea Palling, the Great Yarmouth town beach and Gorleston are affected – but only the parts nearest the attractions. There are still miles of sand and dunes to be explored away from the madding crowds.
And to make up for missing out on the sands, you can take your dog to the Gorleston Doggy Diner (pictured) at the harbour mouth – a café designed just for dog owners and their pets. It's currently ranked 16 of 40 restaurants in Gorleston – and we're not sure who is writing the reviews, the dogs or the owners…
Being near the Broads you might consider taking a boat trip and dogs are more than welcome on most of these. Hire a day boat from Broads Tours at Wroxham and your pets are welcome – there are even doggy lifejackets available.

Dogs are also allowed on most of the organised cruises around the broads, including at Fairhaven Gardens where there are also lovely walks – entry is 25p for hounds, and you get a free poop scoop! Dogs are also welcome on the Bure Valley Railway for a trip on a steam train or a walk along the track.  There's a resident railway dog, Henry, who can give your four-legged friend the lowdown on all the best things to see and sniff.

Our lovely stately homes also welcome canine guests – just not in the houses themselves. There are miles and miles of parkland and estate to wander in - just make sure you look out for signs asking you to put your pet on a lead for the safety of livestock and deer.

One of the best things about a holiday is the opportunity to have long, lazy lunches in beautiful pubs and cafes – and we are blessed with lots of those. Luckily, most are also pleased to see doggy diners, too – although sometimes areas are restricted. Check out The Barking Bugle for reviews of local pubs from a pooch's perspective. The Fisherman's Return in Winterton is a very dog-friendly establishment, where Digby has made some excellent friends just hanging around the bar. The Nelsons Head, at Horsey also welcomes dogs with open paws (we were amused by a Trip Advisor review which described it as having 'more dogs than people' which can't be a bad thing, surely…). Another doggy waterhole we like is the Maltsters at Ranworth, ideal for a pitstop after a walk around the broad. They have a Facebook page so your pooch can 'check in' and let all his pals know what a fabulous holiday he is having.

"So much more fun than last year's week at the Dog-o-tel. Wish you were here..?"