Festive feasts have a Norfolk flavour
December is a magical month and we are all gearing up for the festive season – but are you aware of the big part Norfolk plays in everyone's Christmas? Take the turkey. It's the centrepiece of most festive dinners and we "gobble" our way through around 10 million of them every year.
Norfolk Blacks are considered by many to be the best – for both taste and the way they are reared. It is said that the perfect Christmas turkey must have "tasted the April dew" and Blacks are a slow-growing breed. Almost certainly the oldest turkey breed in Britain, the Spanish Black was introduced from North America in the 16th century and, as the majority were reared in Norfolk, the name quickly changed to the Norfolk Black. They became very popular and for centuries they were driven to London to be sold in the markets. When we say "driven" we don't mean in a cart – they had to walk. Every step of the way.
Geese – the more traditional Norfolk Christmas treat – were also driven. The birds wore little leather boots or were walked through tar and sand to protect their feet during their epic journey. Dogs were used to keep them in order and many place names reflect this history, especially in the west of the county, where "Drove End" and "Drove" are common suffixes. The popularity of Blacks waned as bigger-breasted types, such as the Bronze, were introduced, and by the 1930s the breed had almost vanished. Its resurgence is largely due to Norfolk turkey farming family the Peeles, who agreed to hatch out a few Norfolk Black eggs. By the 1950s, the family was concentrating just on the Black and is still a leading producer today.
Of course, the name on everyone's lips when turkey is mentioned is Bernard Matthews. His turkey empire started in 1950, when he hatched out 20 eggs at his home. By 2016 his "bootiful" business was sold for £87.5m and is a global concern. Birds are reared on Norfolk farms and, chances are, your supermarket-bought bird will be one of those.
The county's traditional Christmas poultry auctions also draw the crowds, but it's not only turkeys that have a proud Norfolk tradition. From the 1950s until 1998, Tom Smith crackers – complete with snaps, mottoes, gifts and groan-inducing jokes – were produced in Norwich. Some 50 million a year were made and sent all over the world – including for the Queen's table. Even earlier than that, the city was famous for Caley's crackers, which were first made in 1898. That company eventually merged with Tom Smith.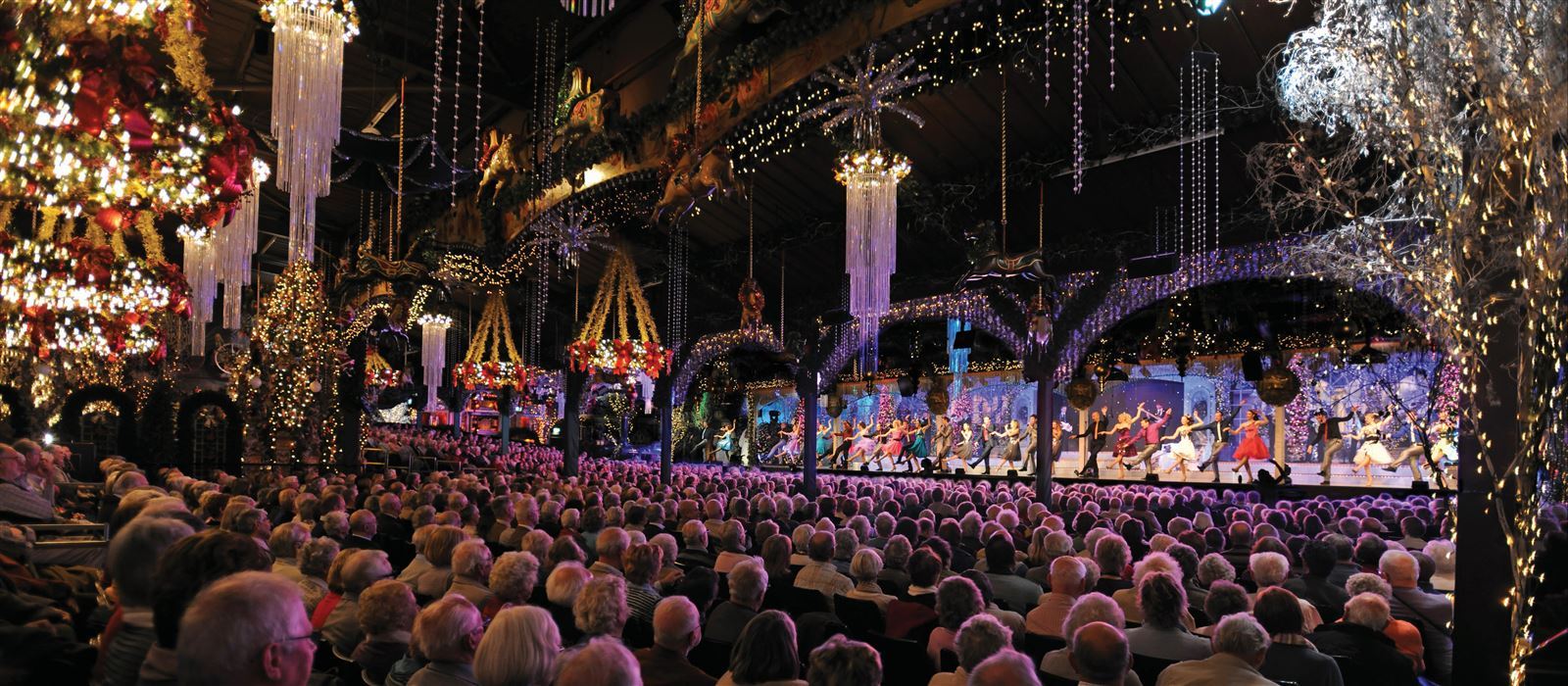 Modern-day Christmas treats include the country's only end-of-the-pier Christmas show, at Cromer, and Britain's largest Christmas Spectacular is held at Thursford. Tickets can be sold out as early as the previous January and preparation and rehearsals go on for most of the year. Coach parties come from all over the country and it is really, as the name suggests, spectacular.
People also come from far and wide to choose their tree from Thetford Forest. The Elveden estate, on the Norfolk/Suffolk border, is particularly popular – not least because your chosen tree can be dragged to your car on a cart pulled by a Newfoundland dog!
The Christmas Day, Boxing Day and New Year swims along the coast - especially at Hunstanton, Cromer and Lowestoft – draw huge numbers of brave (some might say foolhardy) participants and even bigger crowds. And, of course, if you prefer to stay indoors there is the Norwich Theatre Royal panto to entertain you in the warm.
If you're still wondering whether a Norfolk Christmas is for you... The Queen spends her festive holiday at Sandringham every year. You can't pop round for a sherry and a mince pie, but the public are invited to be outside St Mary Magdalene Church for the 11am service on Christmas morning. Scores of people get up early to secure a prime spot and are often rewarded by a chat with one of the Royal Family. Their Christmas lunch, we are led to believe, is a Norfolk Black turkey with all the trimmings.
Merry Christmas to all our guests and we hope to see you in the new year.