Banksy's Norfolk Spraycation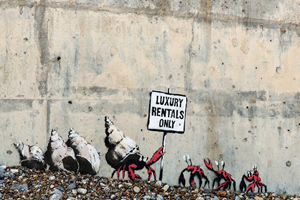 Over the past 20 years or so, artworks have appeared out of the blue on walls, streets and bridges all around the world.
At first nobody knew who was responsible. Then a mysterious artist known only as Banksy claimed responsibility and the hunt was on to discover his identity.
There has been lots of speculation over who he is but as yet, nobody has cracked it – and if they have, none of the suggestions has been confirmed.
But even anonymous artists take a holiday and just recently, Banksy has enjoyed a "spraycation" around these parts, leaving his artistic calling card in various locations along the east coast.
He didn't pop into Winterton – one of his satirical comments on life, love and the state of the world would have been a great addition to the village – but he did visit Great Yarmouth and Gorleston as well as other locations a little further afield.
And their arrival has started a mini tourism boom of their own.
In Great Yarmouth he managed to "Banksy" one of the tiny buildings in the Merrivale Model Village on the seafront using some inspired diversionary tactics. His team sent up a drone to distract the staff enabling the building to be put in place. Eventually the drone was lassoed by a member of staff using a fishing net, so the "troublemakers" left, leaving their work to be discovered later.
With genuine pieces selling for enormous sums (some have gone for many millions of pounds), the model has caused something of a headache for the owners and this week there was talk that the "original" would be housed in a museum with a replica put in its place.
The town also boasts another piece on the wall of a house where the artist drew a couple dancing on the top of a bus shelter while an accordionist sat on the edge, providing the music.
In Gorleston, Banksy left an artwork in one of the seafront shelters showing a "grabber" from an arcade game above where holidaymakers stop for a breather.
Works in Lowestoft include an enormous seagull swooping down on a skip which was left next to the wall and a child building a sandcastle which was created on the side of a shop. The building had been for sale, but the owner said he was now "considering his options".
There is also a work showing some children in a boat, constructed over a stream in a local park, and a mural of a rat enjoying a cocktail in a deckchair positioned under a wastewater outlet.
Further up the coast, Cromer now has a mural of hermit crabs on its East Prom with the slogan "Luxury Rentals Only". Banksy's works all have a message behind them – usually making a social or environmental comment – and experts believe this one highlights the lack of affordable accommodation in the area and the plight of those with nowhere to live.
Most of the works are now being protected against vandalism or erosion from the elements, with Perspex sheeting and other coverings being hastily assembled – but it was too late for the Lowestoft cocktail rat, which was whitewashed over by vandals. The local council is looking at how this can be restored so they hope it will be back to its original splendour before long.
But in King's Lynn, the decorations on a statue of steam engineer Frederick Savage were removed before anyone realised what they were. Banksy had added an ice cream made from a traffic cone and a long tongue, but they were taken down after complaints. King's Lynn and West Norfolk Council still has the cone but does not know what happened to the tongue…
It is hoped that all works will remain in place and will provide a Banksy trail around the coastline for people to enjoy.