Afternoon Tea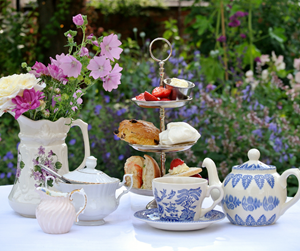 Fancy a cup of tea and a biscuit?  What about a piece of cake… perhaps a scone… or maybe a crumpet… or a muffin...?
Or how about a proper afternoon tea? That most quintessential of English customs has recently enjoyed a resurgence, tempting us with naughty treats and turning an ordinary afternoon into a special occasion.
While the custom of drinking tea goes back millennia to ancient China, King Charles II introduced it to England in the 1660s and we never looked back. Say "tea" to most people and they will associate it with England. Pop the word "afternoon" in front of it and you definitely know where in the world you are.
Afternoon tea was probably first introduced in 1840 by the Duchess of Bedford. She tended to get a bit peckish around 4pm with a long wait until dinner at 8pm. She asked for some bread and butter and cake to be brought to her room and started to invite friends over to join her. This mid-afternoon pause became popular and society ladies would dress up for the event, whether in their own home or out in a fashionable restaurant.
The traditional menu, which has barely changed in all this time was finger sandwiches – always including thinly-sliced cucumber – scones with jam and cream, dainty cakes and pastries. Tea was served from a silver pot into china cups and is still usually served this way. Save the mugs for another time.
We are spoilt for choice for excellent places to go for afternoon tea in and around Winterton.
Poppy's café, at the post office, serves an excellent tea in cosy surroundings, with miniature Victoria sponges, macarons and bite-size morsels alongside the sandwiches and scones. At certain times of the year, the menu is themed – including a Christmas selection, with mince pies, iced fruit cake and mini Christmas puddings – and there's even a savoury tea for those who aren't that keen on cake. There are pork pies, sausage rolls, quiches and mini scotch eggs, all arranged beautifully on a stand.
A little way up the coast road at Horsey is Poppylands, a very unusual café which puts together a most impressive afternoon tea. It has a 1940s theme, decorated with Second World War artefacts and the cutest knitted tea cosies so your pot becomes a character from the era – from land girls to Churchill!
There are a variety of plates on offer, from simple combinations to the full-blown works (we recommend you go for this one) with your choice of sandwiches (last time we had some excellent local ham and prawns but the choices include spam and corned beef – there is a war on, you know!) very generous scones, cheese straws that melt in your mouth and a wide range of cakes. There are also boxes provided to take away anything you can't polish off at the time.
Turn in the opposite direction to Hemsby to find a hidden gem at Kiah Homebakes. It's in the village, rather than by the sea, but it is a delightful find. The "standard" tea has a sandwich, a slice of cake and a scone with cream and jam, while the "deluxe" version offers a sandwich selection, sausage rolls, a cheese scone and cheese straws to the usual selection of goodies. It's all homemade and all terribly more-ish.
Of course most of the hotels and cafes in the area offer an afternoon tea, and some really push the boat out. The Terrace at the Imperial Hotel in Gt Yarmouth also offers a glass of fizz while you watch the world go by on the promenade. And the Cliff Hotel, in Gorleston, has been voted as one of the best in Norfolk – again it's a tea with a view, particularly in the summer when you can sit outside and look over the beach.
Inland, the Norfolk Mead Hotel, at Coltishall, offers a very grand tea (again with champagne offered) next to a roaring fire in winter. If you're out enjoying the Broads it's an excellent place to stop and refuel.
But if a full afternoon tea is a bit much, a cream tea with a scone (however you pronounce it) with jam, cream and a pot of tea is a lovely way to break up an afternoon – especially when on holiday.
Associated with the West Country, where you'll find all that lovely clotted cream, the Devon way says that the cream should be put on before the jam. The Cornwall method insists that the jam goes on first, with a dollop of cream on top.
Here in Norfolk we say just spread on lots of both and tuck in!